You said goodbye to your futon years ago. That beanbag chair is long gone, and the wood paneling and shag carpet are just a distant memory. So now you may be asking yourself is the ceiling fan out of style? Before you decide to give up on ceiling fans for good, here are eight reasons why you should consider adding a new one to your home.
Ceiling fans with style.
First and foremost, style. Have you seen today's fans? If you think of a ceiling fan as something that would only feel in place on the set of the television show The Golden Girls, it's time to do a little browsing around. Today's fans are designed to complement a number of interiors, from the sleek and modern, to the rustic barnyard. And even if you're going for that mid-eighties Miami retirement home vibe, yes there are options for you too. Ceiling fans are no longer one style fits all. Blades come in a number of shapes, sizes and colors. Some are even reversible, so if you change your mind on your room's paint color, you can change your blades too. And lighting? We'll get a little more in depth with lights later, but today's ceiling fans have light fixtures that can be as ornate or simple as you want. It might be time to replace your old ceiling fan with a newer, more stylish one.
Just like your fridge, a ceiling fan serves a purpose in your home. A ceiling fan can keep you at a comfortable temperature and add additional lighting to your room. And they aren't just for the indoors, an outdoor ceiling fan can make your patio a lot more welcoming on the summer nights, by creating a breeze and keeping insects at bay.
Creates comfort.
Speaking of comfort, some sleep experts say that the ideal temperature for a good night's sleep is 65° F and. A ceiling fan can help you create those ideal conditions for sleep. So, turn on your fan and get snuggly. If you must get out of bed, having ceiling fans throughout your home creates a comfortable environment for you to escape the rest of the world.
Includes modern features.
Ceiling fans have come a long way since the invention of the pull chain. In fact, Hunter's SIMPLEconnect® allows you to control your fan with a smart device. Illuminating and cooling your home can happen before you walk in the door. Today's versatile LED's provide a number of different lighting options from bright daylight to a more, soft and dimly lit room.
Hunter has also made advancements in the efficiency of the fan blade designs and optimized motor that help to cool your space, more quickly with its SureSpeed® Guarantee. Even the latest antique looking ceiling fan includes many modern features.
That brings us to reason number six. Saving energy. A ceiling fan complements your air-conditioning. With just a pull of a chain or push of a button your room can go from stuffy to comfortable in no time. The ceiling fan only needs to run when you're in the room. When you leave, turn it off. In the long run you will be cooling a lot more efficiently.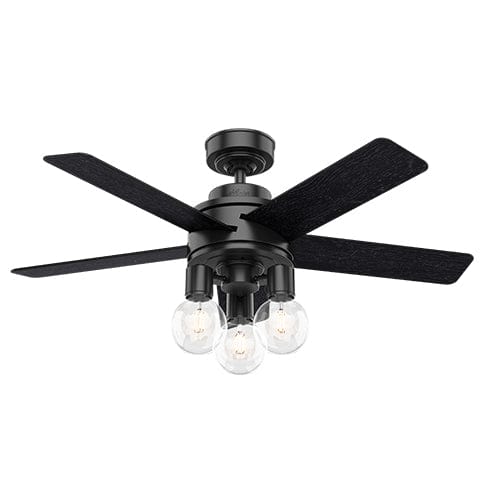 Always whisper quiet.
Peace and quiet. If you have kids, or a snoring partner, you're out of luck on this one, but in those rare times when it is quiet you don't need a wobbly, noisy ceiling fan destroying your moment of Zen. Hunter ceiling fans are whisper quiet and wobble free to maintain the silence.
Perfect for every season.
A summer afternoon with nothing to do lying under a fan is one of our favorite activities. There is a peaceful, quiet harmony to the room. This comfort, however, can be found year-round with a ceiling fan. In the fall, as temperatures begin to drop, run your fan clockwise to push the warm air down to where you are. In the spring flip the switch to counterclockwise to keep you cool as you crank up the music for a deep spring cleaning.
Built to last.
Hunter WeatherMax® fans are built to last in the elements. While other fans start to droop after only one season, these fans are built to keep their shape year after year and will keep your patio or porch comfortable year-round. They're even tough enough to use on beachfront property, so if you're dreaming of owning a home by the shore, we have the fan ready and waiting for you.
So there you go. As promised, eight solid reasons why fans are still a good idea. It might be time to replace any very old ceiling fans, but when exploring the options available now, we're certain you'll discover there's nothing old fashioned about ceiling fans.