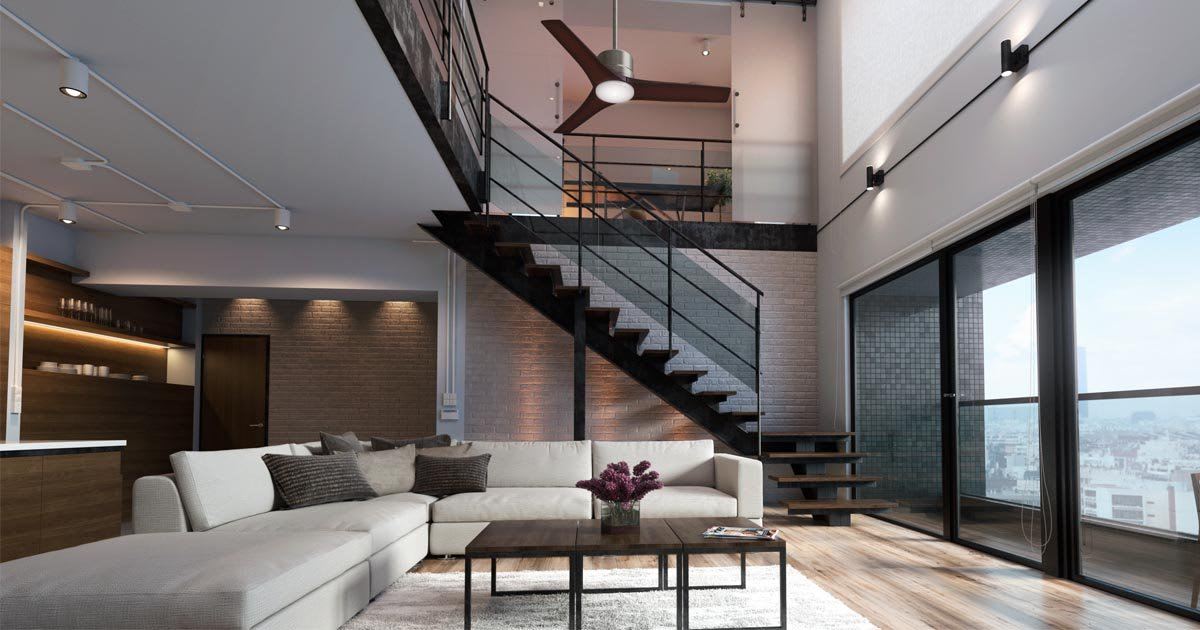 Casablanca: Designer Favorites 2021
Designer favorites for your home 2021
< 
What our designers are loving at Casablanca
Our designers strive to create Casablanca ceiling fan designs that are works of art as much as they are functional fixtures. These unique ceiling fans offer superior craftsmanship and one-of-a-kind designs. They are inspired by experiences – from dinner parties with unique glassware to a walk in the woods – and collaboration. They apply finishes like featherwood and copper to create trendsetting designs that are unlike anything else. It makes it hard to pick a favorite.  
Our designers highlighted a few of their favorite Casablanca ceiling fan designs for 2021 that evoke inspiration in any home: fans with style, performance, and versatility. Along with design and installation inspiration, we've included why these Casablanca fans are so beloved. After all, who can resist the Piston's sleek finishes or the Caneel Bay's nautical elements? Keep reading to fall in love yourself: 
Aya modern smart ceiling fan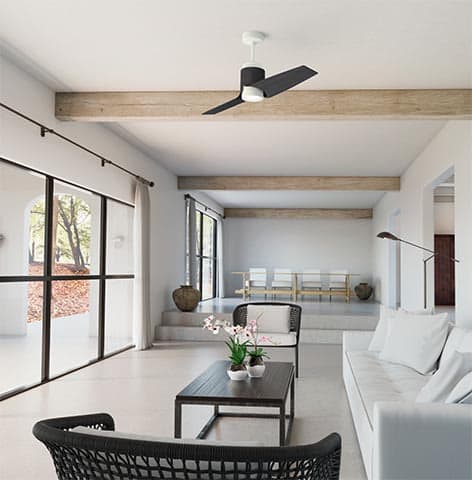 A breathtaking fan with beauty and brains. Evoking essences of Japanese and Scandinavian furniture, the Aya boasts a unique and artistic design with a blade shape that delicately peels away from the housing like fine wood shavings. This high-tech fan features Wi-Fi® smart home capabilities as well as moisture resistant hardware and finishes perfect for covered outdoor spaces. We love how the Black Ash finish looks with ironwork detailing and black rattan chairs. Our designers love how the White Ash finish creates a stunning juxtaposition against concrete and light wood finishes.  
Favorite space for it: Minimalist modern living rooms and covered patios that incorporate other natural textiles like wood beams and rattan.  
Design inspiration: Sweeping lines in modern Japanese and Scandinavian furniture.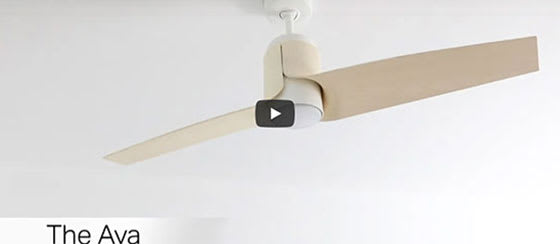 The Aya modern ceiling fan

Caneel Bay modern industrial fan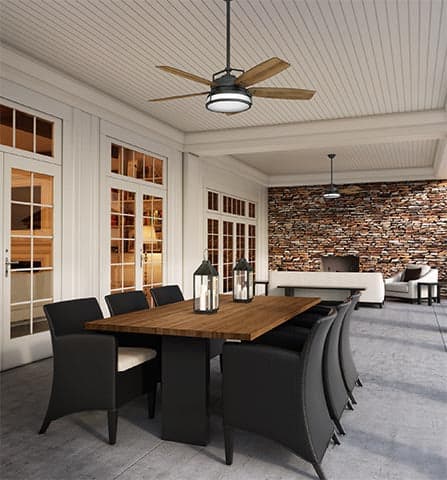 The Caneel Bay's rustic design and nautical influences make it a head turner. It especially rounds out farmhouse and modern industrial inspired spaces with its exposed hardware detailing. In fact, HGTV's Joanna Gaines noticed this fan's great design and featured the Caneel Bay in an episode of Fixer Upper . She placed it in a home office and the wood-inspired blade finishes perfectly complemented the desk. These rustic design details along with its damp-rating make this fan stand out in both indoor and covered outdoor spaces. Overall, this modern industrial fan has a timeless style that suits a variety of spaces, and with its powerful performance and persisting design, it will make a statement for years to come.  
Favorite space for it: Modern farmhouse patios and modern industrial living rooms with a classic color palette. 
Design inspiration: Exposed hardware from 1950s American Industrial era coupled with nautical elements. 
Piston outdoor ceiling fan 

 
Inspired by the machine pistons found in old, large machinery, Casablanca's Piston outdoor ceiling fan combines Industrial Age influence with modern design to create a one-of-a-kind ceiling fan. This fan's clean lines and elegant finishes make it a memorable statement piece in your home. Plus, with its sleek design and damp rating, this ceiling fan can be installed both in your modern indoor spaces and your large, covered outdoor areas. We love this fan because it is so versatile. Its clean design blends into a multitude of styles all while adding personality to your space. Plus, the Piston's various finishes all bring something different to the table. For example, the Soft Sage completes tropical outdoor patios and the Coffee Beech looks divine on Mediterranean-inspired pergolas.  
Favorite space for it: Rooms that blend eclectic character with the streamlined look of modern design. 
Design inspiration: Clean lines and sleek finishes of the early American Industrial age.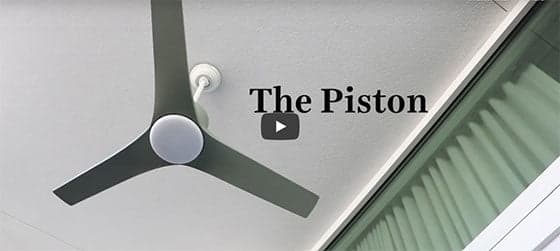 The Piston ceiling fan at the Sarasota Modern Hotel
 

Panama classic ceiling fan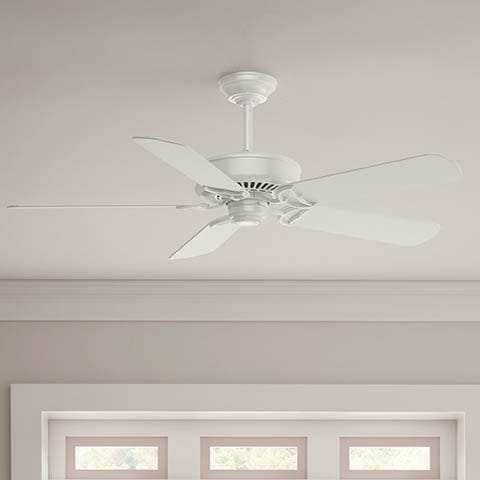 This classic fan brings indoor spaces to life with its traditional finishes and timeless design. The Panama proves that great design never goes out of style. Over the years this fan has been revamped and revitalized, and it maintains its foundation and integrity to this day. This lasting design makes it one of our best and favorite ceiling fans. Not to mention, the Panama's classic design makes it stand out in a variety of home styles. Whether you're adding it to a rustic or traditional space, this ceiling fan will fit in seamlessly. 
Favorite space for it: Modern farmhouse spaces with other nostalgic accent pieces.  
Design inspiration: Traditional ceiling fan design coupled with evolutions in the automobile industry.  
With Casablanca ceiling fans, you can't go wrong. Each ceiling fan offers something unique, and these fans truly enhance your space. Our favorites exemplify what Casablanca is all about: superior craftsmanship. With their stunning designs and innovative features, these ceiling fans do more than just spin. Check out Casablanca's diverse ceiling fan catalog here.